NEWS
Russell Brand Wants the World to Evaporate in 2010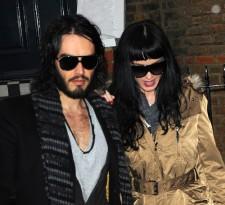 Russell Brand has high hopes for 2010. The British funnyman wants to see the common day world "evaporate" this upcoming year and transform into a "sexual utopia." "I would like the illusory material world in which we all dwell to evaporate and for our consciousnesses to connect and to live in a sexual utopia," Russell — who is currently courting pop songstress Katy Perry — told Contact Music.
"I don't know how we are going to do it without acid," he admits in the interview.
Article continues below advertisement
Russell has overcome drug addiction and alcoholism in the past.
Even though Russell cannot spend as much time with Katy as he would like, the couple plans to keep the spark alive in their with some good, old-fashion cybersex.
"There's a regular phone conversation, and then there's what I can only describe as the kinky miracle of iChat," Russell quipped.
The British comedian reportedly popped the question to Katy this holiday weekend during her visit to the UK!