NEWS
Ryan and Randy Talk About Idol's Chatter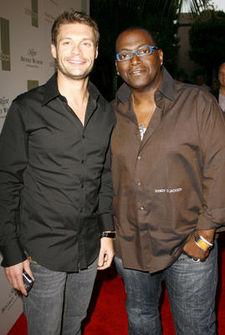 Ryan Seacrest and Randy Jackson double team The Morning Show with Mike and Juliet Show on Wednesday's episode. When asked if the show's playful banter is scripted Ryan said, "The judges and I never know what we are going to say to each other. As a matter of fact, sometimes we say things…. and I say, "Oh god…what did I say?!"
Meanwhile, Randy finds the sometimes inappropriate chatter between Ryan and judge Simon Cowell endearing. "Being the Dawg, I understand the idea of their bro-mance. It's okay with me…I'm cool with it. I'm my own man…so I mean, I let them have their own bro-mance."
Article continues below advertisement
He added, "I think it's really nice."
Although everyone on the show is quite opinionated the guys agree that David Archuleta has what it takes to go all the way!
Ryan said, "I think David Archuleta, who's a favorite of the judges and also of the audience. However, the beauty of the show is that America obviously votes. I look down at that card and I see the name and sometimes I know the name before-hand and still read the name two or three times and go…is that right?"
"I guess David Archuleta," added Randy, "David Cook and Brooke White…probably Carly too….I think Carly is really, really talented and really, really strong and doesn't really know her own strengths. I don't think she really knows and embraces it like that…because vocally for me, she's got the most vocal talent in all of the top 10."
For more with the dynamic duo, check out The Mike and Juliet Show tomorrow!