NEWS
Ryan Charms at 'Definitely, Maybe' Premiere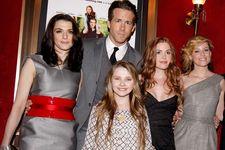 The stars are out in full force for the Definitely, Maybe premiere held at NYC's Ziegfeld Theater.
Ryan Reynolds steps up. "Hi, how are you?" he asks me. Does he feel a lot of pressure considering he's carrying the film? "Now that you say it like that," Ryan says. "No, I love doing this stuff whether I'm in five scenes or a hundred scenes. It's a labor of love. I don't think they pay you to do movies – they pay you to travel around the world and talk about it."
Article continues below advertisement
Here's Isla Fisher, who's rocking a serious Aussie accent. "Hi!" she excitedly says. What was it like working with Ryan? "Great," Olive's mom says. "As you can see, he's really difficult, he's a diva, I mean, it's just oh 'Ryan, Ryan, Ryan.' No, I'm joking. Ryan was really amazing. It's such a funny, talented role and I think he did a great job." She crinkles her nose as sirens whizz by. Is he a good kisser? "Oh, I think you'll find Ryan is a very good kisser. He seemed to enjoy it obviously." (Just don't ask any personal questions of well, anyone, or bam! Moving along.)
Rachel Weisz puts on her coat while doing interviews. "It's however many below," she says. Elizabeth Banks heads inside as Isla's Confessions of a Shopaholic costar Krysten Ritter is posing like a pro. "Oh, I was a model," she tells me. "It's been beaten into me from a young age. But I'm a ham. You've gotta work it." Acting twin duo Peyton and Spencer List – who I've seen at lots of premieres lately – tell me they're here to show some love to Abigail Breslin. "Her acting is phenomenal," Peyton says. "I can really believe she's in the scene."
MORE ON:
Red Carpet Confidential
Article continues below advertisement
Speaking of Abigail, what did this romantic comedy teach her about finding love? "Um … I don't know," Abigail, 11, says, before her publicist busts the reporter for asking. "Don't you think she's too young for that?" All right, does she have a boyfriend? "No," Abigail giggles. "She's too busy working," her publicist interjects.
Meanwhile, OK!'s fabulous beauty editor Colleen DiFonzo tells me Ryan Reynolds sat right beside her during the screening. Watch out, Scarlett! (Nick Lachey and Adrian Grenier have also taken a shine to my fellow Ohio-born coworker.) But he left right away! Hahaha. He's already seen the flick, I'm sure.
Definitely, Maybe is out now.