NEWS
Ryan Gosling in 'GQ': "I Never Had a Real Job"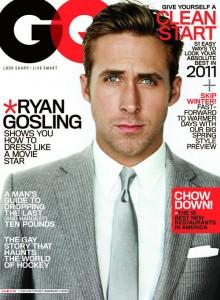 Ryan Gosling has reemerged as Hollywood's golden boy, but the sexy 30-year-old actor has not let fame get to his head. Currently starring in two highly-talked about films, Blue Valentine and All Good Things, Ryan suits up for the cover of GQ magazine's January 2011 issue. Do his eyes not make you melt? Swoon.
"I'd never had a real job," Ryan tells GQ (via Just Jared) about working at a deli post blockbuster hit, The Notebook.
Article continues below advertisement
Ryan feels that a main problem with Hollywood is that nobody works, which may lead to the downfall of some high-profile celebrities.
"They have meals. They go to Pilates. But it's not enough. So they do drugs," Ryan says. "If everybody had a pile of rocks in their backyard and spent every day moving them from one side of the yard to the other, it would be a much happier place."
One thing Ryan still isn't used to is the fanfare surrounding his career and his success!
"Look, this is crazy. I don't understand how I'm here, living this life, wearing this suit. I assume I'm going to pay for it someday."
OK! VIDEO: RYAN GOSLING GETS HIS OWN MEME
Ryan and his co-star/dear friend Michelle Williams both deserve congratulations today as they were nominated this morning for a for best actor/actress drama for Blue Valentine!
For more on Ryan's GQ interview, click HERE!