NEWS
Ryan Gosling & Olivia Wilde Hot New Couple? Watch Their Aquarium Date!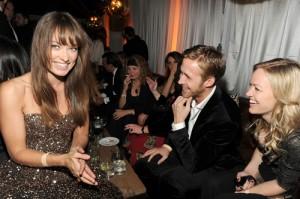 Some lucky Ryan Gosling fan caught some juicy gossip on tape! A woman accidentally stumbled upon Ryan and Olivia Wilde while recording her family's visit to the Newport Aquarium! And by the looks of it, something is definitely brewin' between the hot young actors.
Olivia, 26, and Ryan, 30, were spotted at Relativity Media and The Weinstein Company's 2011 Golden Globe Awards After Party on Jan. 16 at The Beverly Hilton, laughing together and looking very friendly. And it looks like there romance has blossomed since then, as the duo got quite cozy on their visit with the fishies.
Article continues below advertisement
In the YouTube clip, "Did I seriously just bump into Ryan Gosling?!," the woman narrating the video is very funny, as she trails Ryan and Olivia, who she dubs his "lady friend," through the aquarium, which is near Cincinnati, Ohio, in Newport, Ky. You can hear her boyfriend tell her that she needs to stop, but the woman desperately wants to ask to take a picture with the hot young actor.
In the clip Ryan is wearing a maroon sweater and blue baseball cap and Olivia sports a black hooded leather jacket.
Olivia just split from husband Tao Ruspoli, so she is back on the prowl, while Ryan has most recently been romantically linked to Blake Lively.
OK! NEWS: OLIVIA WILDE & HUSBAND TAO RUSPOLI SPLIT
Maybe Ryan was doing research for his new film Ides of March, which he stars opposite Evan Rachel Wood.
Article continues below advertisement
Ryan and Evan visited the Cincinnati Zoo & Botanical Garden yesterday in in Cincinnati, Ohio, where they are filming the movie, also starring George Clooney and Marisa Tomei, Just Jared reports.
Ryan and Olivia definitely look they are trying to stay incognito in the clip below, but it's definitely them. At points in the clip, we think they are holding hands, but it is difficult to tell with all the zoo goers surrounding them.
Watch the clip below (START AT MINUTE 12) and share your comments!