NEWS
Ryan Gosling Reveals Agent's Advice: "You're Trying Too Hard to Be Cool"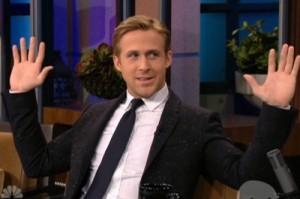 Ryan Gosling has been busy on the late night TV circuit promoting his new flicks Drive and Ides of March. Last night he chatted with Jay Leno on The Tonight Show and revealed some interesting advice from a member of his camp.
While we think Ryan is effortlessly cool (and handsome), one of his agent's team members has a different opinion.
OK! GALLERY: RYAN GOSLING ON-SET ROMANCES WITH EMMA STONE ... & A BULL DOG?
Article continues below advertisement
Ryan shared a story with Jay about a meeting he had with Lisa Shields, a pal of his who is in charge of recording his late night appearances.
He shared: "She told me this last night, she says I'm trying too hard on talk shows. She said 'You're trying too hard to be cool.' ... I said 'I'm going on Jay Leno tomorrow, what should I do?' She said, 'I don't know, just don't talk. Sit there and don't talk.' And I was like, 'It's a talk show, how do you not...' And then she said, 'Do something weird like sit behind his desk and get him to sit in a chair.' "
Ryan turned her warning into some very funny late night banter.
The 30-year-old actor also shared details about his love for motorcycles, a passion that Jay also shared.
When did the love affair start? When he was a kid and witnessed a man fly off his bike and lose his helmet.
"He had this long blonde hair and all this blood started pouring out from behind his head," Ryan said, recalling the gory scene. "I looked down and he looked up at me."
"And that was the moment I thought, I have to get a motorcycle."
Catch a clip for Ryan's interview below! Do you think he tries too hard to be cool?