NEWS
Ryan Gosling Tells 'Esquire' Being Recognized by Fans Is "Like Being in a Dream"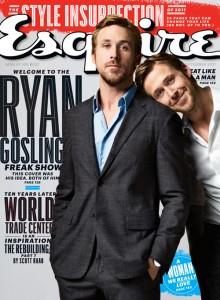 Article continues below advertisement
In the issue, the 30-year-old actor talks fame, candy and theme parks, but won't explain "what's with the skeletons."
"I think I was always bound to become two selves, if I wasn't already," Ryan says. "Now there's this me, this public me, and I know that I have become two people. This is what I told the photographer before he took those photographs. Even my own name sounds like just someone I know."
And perhaps that's because being recognized by a fan is a surreal experience for him.
"It's like being in a dream," Ryan explains of being recognized by fans. "You don't know anybody, but everybody knows you, everybody reacts to you. You can be walking along in a dream, through a pretty normal world, and then bam, everything seems to be a response to your presence. Everything seems to be driven by you. And that's notable at first, and you deal with it. And then — and it happens every time — you become aware it's a dream. Right about then, when you think you have it figured, and that acknowledging that will make it easier, it inevitably becomes a nightmare."
Article continues below advertisement
OK! NEWS: RYAN GOSLING LAUGHS SO HARD THAT HE SNORTS, READING HIS "HEY GIRL" LINES
But Ryan grew up witnessing the reality of fantasy by being a Mouseketeer.
"I went through puberty in a theme park. I'm grateful," Ryan says. "That place was a landscape to me. I had adventures every day…. Backstage at Disney World, there are stories. Mickey Mouse with his head off, drinking coffee on break. Pirates on the phone. Ghosts in line for food. It just made me see things."
The actor now really enjoys being an adult.
"Sometimes I think that the one thing I love most about being an adult is the right to buy candy whenever and wherever I want."
Head over to Esquire to see the skeleton photos!