NEWS
Ryan Reynolds Confirms 'Buried' is Terrifying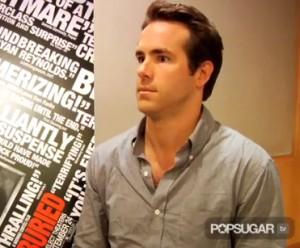 Too scared to go see Ryan Reynolds in his new film, Buried? Well, Ryan's ready to try to convince you to go anyway because he's not about to tell you it isn't terrifying!
OK! GALLERY: RYAN REYNOLDS IS FAN FRIENDLY IN NYC
Ryan stars in the new film, Buried, as a an American truck driver who is trapped in a coffin in Iraq.
"All of the people, when they hear about this movie, they think it's going to be too much for them to see. What would he say to convince them otherwise of why they should see this film?" PopSugar asks Ryan.
Article continues below advertisement
"I mean this is the kind of movie that's never been done before," Ryan said. "I'll never understand why people want to go and be completely terrified at a movie. I have no idea why they want to do this, but people love to do it. If there is one thing I can say that this movie achieves, it's that."
OK! GALLERY: RYAN REYNOLDS SURFACES FOR BURIED AT TORONTO FILM FESTIVAL
"It's done in such an usual way, too," he added. "There's nobody chasing this guy and there are no quick cuts to an axe murder or anything like that."
"This is all about you watch the movie and you think, 'What would I do? If I were in this position, What would I do? Would I react the way this guy is reacting? Would I quit? Would I just crawl up into a ball, shiver and cry and wait to die?" Ryan explained. "I think it presents the audience with a very real, very plausible scenario in which they kind of have to figure out for themselves, but at the same time it's terrifying. I mean everybody has that worst fear."