NEWS
Ryan Reynolds Remembers His Awkward Twenties: "I Look Pretty Bad"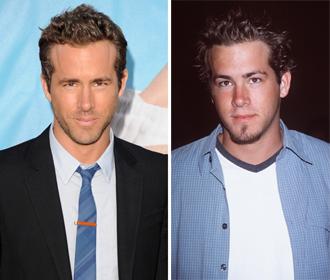 A lot of people are bummed about getting older, but not Ryan Reynolds! The actor, who turns 36 in October, reveals that he appreciates getting older, especially because he thinks he looks much better now than he did in his twenties. (YUP, we agree!)
"I recently saw a picture from when I was just a pup — maybe 20 or 21 years old. And I look pretty bad," Ryan tells Details in the June issue, referring to his look at the Election premiere in 1999. "I've got some weird facial hair, and my hair is glopped with about six pounds of gel. So I really don't shy away from aging at all. I love getting older."
Article continues below advertisement
OK! GALLERY: RYAN REYNOLDS & DENZEL WASHINGTON HEAT UP SPAIN AT SAFE HOUSE PHOTOCALL
Ryan also confessed that he experimented with awkward body ink in his twenties — something he now has to live with at 35.
"My tattoo is of a cannon in Vancouver that I got in a fleeting moment of stupidity maybe 14 years ago," he says. "A lot of people have really beautiful tattoos, and I get real tattoo envy. But then other people basically just treat them like bumper stickers for their bodies."
Ryan, who is dating the lovely Blake Lively, admits that with age, comes experience and with experience comes a better wardrobe!
"I look at guys like Cary Grant or Jimmy Stewart, and what they were wearing is what you'd wear now. I just hope in 20 years, when you see a photo of me at a premiere, I'll look good," Ryan explains, adding that "a nicely fitted two-button suit is the best thing any guy can have."
"Guys are lucky," he gushes. "We can wear a suit over and over, just with different shirts and ties."
But let's be honest, not every guy looks as good as Ryan does in a suit... and his workout routine might explain why!
OK! NEWS: HOW RYAN REYNOLDS MANAGED TO UPSET DENZEL WASHINGTON ON THE SET OF SAFE HOUSE
"When I'm not training for a movie, it's more relaxed. I do a lot of running," he reveals to Details. "Usually I'll run four to six miles about three times a week. You try to eat right but you don't always."