NEWS
Ryan Seacrest Keeps New GF Under Wraps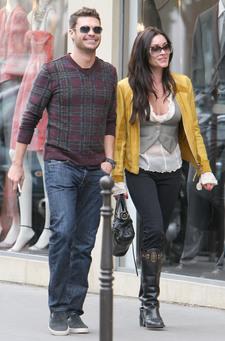 Come on now, don't be shy Ryan Seacrest!
The amiable TV/radio host, producer, entertainer and all around man about town isn't one to talk about relationships, and now Ellen DeGeneres is on a mission to get all the details about his latest paramour.
"I haven't seen you in a while but I'm always joking with everyone on the show that I'm going to set you up," the funny lady tells her pal on Friday's episode of her show. " I keep trying to set every girl up with you and it turns out... I've seen pictures of you in magazine in Paris with a girlfriend."
Article continues below advertisement
"Well, we don't label," Ryan responds demurely.
Ellen's not taking that sitting down, demanding, "Well, how long have you been with her? Who is she Ryan? How come I don't know her?"
The real answer, according to Ryan?
"When I met someone and bring a girl to meet you, I'm always afraid that you are going to be too honest with me about what you think," he tells his pal.
What's aroung with that, huh?
"I don't want honesty," Ryan admits. So what does he want from Ellen?
"I want you to pretend you love them all," he says, adding that his mom has already met his non-girlfriend.
And now it's out there. Feel good about that, Ryan.