NEWS
Ryan Seacrest Responds to Sacha Baron Cohen Dumping Ashes: "It Wasn't the Wind"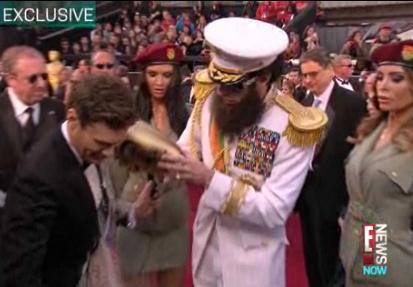 Article continues below advertisement
"He arrived and I remember before the show… someone from a publicity office called and said, 'Hey, would you guys be interested in the Dictator?' We said sure, fine. When we said yes, in the back of my head, I said, This guy isn't coming as the Dictator to not do something — to what extent, I don't know," Ryan explained. "Whether it be a joke or something physical, I don't know."
"I definitely did not know that he was going to do that," he added of the ash dumping, which was thought to be pancake mix.
While Ryan really didn't look too happy on air after the ash dumping occurred, he was able to make jokes about it after.
"A lot of people hitting up afterparties tonight... me?" he Tweeted. "I'm hosting a pancake breakfast tomorrow."