NEWS
Ryan Seacrest Voted Sexiest Smile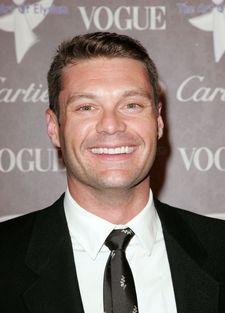 The results of Victoria's Secret's 2008 What Is Sexy list are in — Ryan Seacrest officially has the world's sexiest smile. "What's sexy about him is he doesn't act like he is," Victoria's Secret spokeswoman Monica Mitro tells the A.P. "We felt that his smile was quite sexy — in a very subtle and innocent and humble way."
Seacrest is one of a handful of stars to make the lingerie giant's "sexy" list. Eva Mendes was voted sexiest actress, and star of ABC's Lost Josh Holloway made Sexiest Beach Body. Other honorees include Victoria Beckham for Sexiest Mom and Katherine Heigl and husband Josh Kelly as Sexiest Newlyweds.
Article continues below advertisement
Other sexy celebs include Dane Cook (sexiest funnyman), Eric Bana (sexiest actor) Scarlett Johansson (sexiest style), Jessica Biel (sexiest lips), Gossip Girl's Blake Lively (sexiest newcomer), Fergie and Josh Duhamel (sexiest couple), Kate Bosworth (sexiest eyes) and Ali Larter (sexiest legs).
And ABC's Dirty Sexy Money — which stars Peter Krause and William Baldwin — was voted sexiest cast.
Victoria's Secret Supermodel Adriana Lima will host a one hour special called Victoria's Secret: What Is Sexy? 2008, set to air Feb. 9 on the E! Channel.