NEWS
Ryan Seacrest's Last Word Outtakes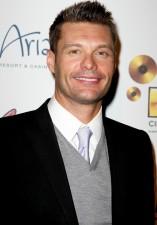 Ryan Seacrest takes OK!'s Last Word interview in the issue on newsstands now.
The American Idol host, 35, needs your assistance. Help Ryan and Scope Outlast's Kiss Mob video reach 500,000 views, and Scope Outlast will donate 50 surgeries to Operation Smile, a charity that treats kids with facial deformities.
This is what you won't find in the magazine.
Last time you visited the dentist?
I visited the dentist about three months ago. I went to get my yearly check-up and a cleaning. And of course, no cavities!
Article continues below advertisement
Last time you went home to Atlanta?
Christmas. My birthday is near Christmas, so it's a double celebration. One of my favorite things to do at Christmas is to make fondue with my family. It's a yearly tradition!
Last time you ate?
An endive salad from Bouchon in Beverly Hills.
Last time you went grocery shopping?
One of my favorite things to do on the weekend is to go to the local farmer's market on Sunday and stock up for the following week.
Last thing you bought?
Scope Outlast. I try to keep it in stock at my house so I never run out.
Last thing you did before going to sleep?
After I brush my teeth with Crest Extra White and rinse with Scope Outlast, I double-check to make sure my alarm is set. After that, it's not too long before I am sleeping!
Last time you went on vacation?
A month ago, I went on a short vacation to Cabo. With a schedule like mine, you sometimes just have to get away for a few days. I was able to hang out outdoors and just enjoy the fresh air.
Last time you worked out?
Today. I try to make time every day to get some sort of exercise in. I love to run.
Help Ryan and Scope Outlast's Kiss Mob video reach 500,000 views, and Scope Outlast will donate 50 smiles through Operation Smile. Log onto Ryan's YouTube channel to learn more. And, pick up the OK! on newsstands now to get the rest of Ryan's Last Word interview. The cover line is "Confirmed: Finally, A Baby For Jen!"