NEWS
Ryan Wants to Marry Farrah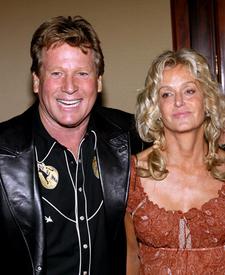 They've been together for decades, so it's no surprise that Ryan O'Neal is considering wedding his longtime love, Farrah Fawcett.
"I would do that," he told Entertainment Tonight asked if he had any thoughts of marrying Farrah. "She's still a little bit hesitant. I'm working though, I'm working."
Despite their obvious devotion to each other, Ryan reveals that past relationships may have kept those wedding bells from ringing in the past.
Article continues below advertisement
"You know she's been married, I've been married," he says by way of explanation. "She's said, 'we have a good thing.' But I said 'you said that 30 years ago, shouldn't there be a sea change?' Maybe there is, you never know."
Farrah's Story, a documentary film chronicling the actress' fight with cancer, premiered last night in L.A.
Tune in tonight to ET for more.