NEWS
Sabrina Bryan Doesn't Listen to Gossip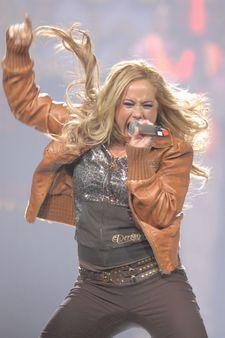 Amid the latest nude picture scandal involving fellow Cheetah Girl Adrienne Bailon, fellow Cheetah Sabrina Bryan is speaking out about the tabloid gossip and has some advice for others int the same situation.
"Stay strong, it will pass," Bryan told the Morning Show with Mike & Juliet on Wednesday. "My parents would tell me when I was going through things that 'this will pass' and eventually you will end up being so much stronger."
Article continues below advertisement
Perhaps Sabrina was talking indirectly to Bailon, who earlier this week became the latest young Hollywood star to have semi-naked photos of her splashed across the internet after her laptop was reportedly stolen at JFK Airport.
Dealing with the not-so-great perks of fame is something Sabrina seems to have mastered.
"I mean, as a Cheetah Girl, I have fans that are a little bit younger. They're just kind of excited about all of the projects I'm involved in," she says. "When I was on Dancing with the Stars, I got an older audience...and they started to pick me apart a lot more. It was kind of like, 'Oh, he kissed her on the forehead. What does that mean?' I was like, 'Why are you saying that? Can I just do the competition?'"