NEWS
Sacha Baron Cohen's 'The Dictator' Talks Getting Megan Fox Pregnant on 'Today'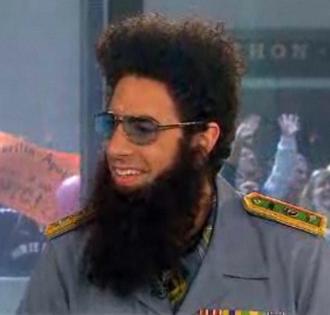 He's back!
OK! NEWS: SACHA BARON COHEN WILL ATTEND THE 2012 ACADEMY AWARDS AS THE DICTATOR
Borat and Brüno fans rejoice. Ultimate British prankster Sacha Baron Cohen has dusted off his comedic skills and is in full promotional swing for his latest masterpiece, The Dictator.
Sacha dons a black beard and shades as Admiral General Shabazz Aladeen, corrupt leader of The Republic of Wadiya whose population "changes depending on my mood." Admiral Aladeen found the time in his busy schedule of executions and "sex activity" to swing by the Today show and chat briefly with Matt Lauer.
Article continues below advertisement
Along with ruling 4 million people, Aladeen claims to have had trysts with Megan Fox, Katy Perry and... Oprah.
OK! NEWS: THE DICTATOR TRAILER FEATURES SACHA BARON COHEN AND A KARDASHIAN JOKE
"Oprah?" asks Matt. Aladeen raises his eyebrows and nods his head yes.
"Megan Fox now she is pregnant," he said. "She wants to get child support. What does she think? I'm the richest man in the world? I'm actually the seventh richest."