NEWS
Salma Hayek Shows & Tells 'Allure' Magazine "I've Never Had Anything Done on My Face"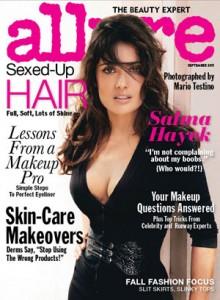 Article continues below advertisement
Of course, Salma has a rather privileged lifestyle and she decides to embrace it. Even her daughter, Valentina, with Francois Henri-Pinault, knows how to speak English, Spanish and French.
"I never understood the point of being privileged if you don't get to have the privileges. Like, people who won't take their kids to an expensive restaurant, or won't travel with them, or make them pay for everything at a really young age," she says. "I think it's important that kids have responsibilities and understand the value of things, but I think it's great that my daughter gets to travel the world."
The September issue of Allure hits newsstands on Aug. 23!