NEWS
Salma Hayek's Hubby Protested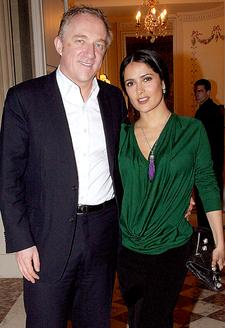 While the U.S. is worrying over its own recession, the economy isn't doing too well abroad, either, as workers take matters into their own hands in Paris.
Employees of Salma Hayek's husband, French billionaire Francois-Henri Pinault, are not too happy with the chief executive of retail and luxury group PPR: workers facing layoffs at two of his stores blocked his car from leaving a meeting in Paris, Reuters reports.
Article continues below advertisement
"They briefly delayed Mr. Pinault's car as he was leaving a company meeting," says a spokesperson. Riot police eventually came and cleared the road of protesters.