NEWS
Salt-N-Pepa Hit the Road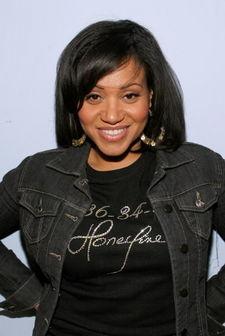 Rappers Cheryl "Salt" James Wray and Sandy "Pepa" Denton, stars of The Salt-N-Pepa Show, are ready to take their act back on the road, well, sort of.
"Everybody wants us back on tour, which I'm reluctant to do," Cheryl tells me. "A tour is a huge commitment. But I'm sure that it will happen in the near future."
Expect to hear the gals perform their hit classics, like "Shoop." "It's one of my favorites," Cheryl says. "It was the first song off our most successful album, Very Necessary. We lost a lot of weight, did the video and had a lot of fun."
Article continues below advertisement
The gals could also be breaking out a brand new sound, if they get started on that new song they announced in their last episode. "We haven't gotten back to song, we've been wrapping up the season," Cheryl admits. "We're taking a break, about two weeks, and then we'll get back to it."
Will the ladies grab hold of the sweet smell of success once they are back in the studio? Sure they will, if Pepa has her way. "Pep is a fragrance guru, and we've been taking meetings to create a Salt-N-Pepa fragrance," Cheryl reveals. "I love a soft, lovely kind of smell. Pepa loves nighttime kind of smell. We're thinking maybe it could be a two-in-one type of thing, like a day and night."
MORE ON:
Red Carpet Confidential
I'll take that scent! The Salt-N-Pepa Show airs Monday, March 10 at 10 p.m. on VH1.