NEWS
Salt: "Pepa Is A Fragrance Freak!"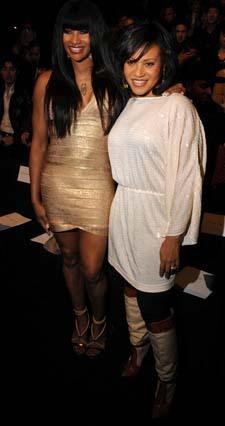 At the FiFi Awards in NYC, Salt'n'Pepa admitted to OK! that Pepa has an addiction. And what is the rapper addicted to? Perfume, of course!
Pepa said, "I'm passionate about fragrances and I love love perfume. I have no favorites."
Her rap partner admitted it's slightly more than just a passion. Salt said, "She is a freak! It's like not normal. She definitely directs me on perfume always."
They admit that it's so bad that Salt doesn't even like to go perfume shopping with Pepa! "The other day we were in LA and she begged me to stop at a fragrance store."
Article continues below advertisement
Pepa added, "I said you're not coming in? And she's like no!"
"Because we'd be in there for hours!," Salt continued, "It's only perfume but apparently it's important to a lot of people! We'd like to do a fragance. I'd be the softer one. The day fragrance. By the time the day is over, the night kicks in."
Well, they say the duo that smells together sticks together!
By Jocelyn Vena