NEWS
Sam & Adnan's Battle Over Britney!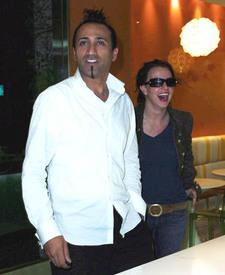 An eyewitness tells OK! that Sam Lutfi and Britney Spears got into a huge fight tonight outside the gates of The Summit around 5 p.m PT. Their argument was so bad that Britney jumped out of the Escalade she and Lutfi were in and walked off down Muholland Drive alone.
TMZ is reporting that Brit then called boy toy Adnan Ghalib and, crying, begged him to come pick her up. Adnan told the pop star to go home and he'd meet her there.
Article continues below advertisement
A source confirms to OK! that Adnan arrived at Britney's home at The Summit just before 7 p.m. PT in a silver Mercedes. He tried to punch in the security code to the gate, but it didn't work. He then reportedly called the house but Britney didn't answer. Now OK! has learned that it was Sam who changed the gate code, and disconnected the numbers to Britney's six cell phones and her house phone.
(Source: www.hollywood.tv)
<object width="425" height="355"><param name="movie" value="https://www.youtube.com/v/VxOExPJd2E4&rel=1"></param><param name="wmode" value="transparent"></param><embed src="https://www.youtube.com/v/VxOExPJd2E4&rel=1" type="application/x-shockwave-flash" wmode="transparent" width="425" height="355"></embed></object>
Frustrated, Adnan then asked the security guard let him in, but the guard told him he was under strict instructions from Sam not to let Adnan past the gate.
Article continues below advertisement
According to sources at the scene, Adnan became irate and angrily approached the guard. He later told a paparazzi photographer that Sam was sending him threatening text messages, calling him a "manic trigger" and telling him, "If you continue to have any contact with her, you'll kill her. "
At 9 p.m., Britney reportedly jumped in her Mercedes and went speeding down Coldwater Canyon Drive with 15 to 20 paparazzi in tow. She abandoned her car in the San Fernando Valley sometime around 10 p.m. and jumped into Adnan's car.
Adnan's former photo agency, FinalPixx released the following statement:
"Adnan did not try to break into Britney's house. Anyone who claims that to be the case has been severely misinformed."