NEWS
Sam Lutfi Keeps Fighting the Bad Fight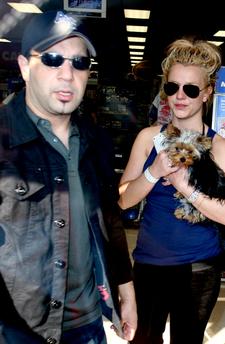 Onetime constant companion of Britney Spears, Sam Lutfi is nothing if not tenacious.
Despite having been rebuffed by the resurgent pop superstar on several occasions since she started getting her life back in order in early 2008, Sam continues to plead he's done nothing wrong — even when it's something he hasn't been accused of!
According to a story on TMZ.com, Brit's former self-proclaimed manager is denying claims that he threatened her with violence.
Article continues below advertisement
"I have not, in any alleged communications with Britney, her hairdresser or any other person, threatened any act of violence against Britney or her family," Sam said in a new court filing in response to the most recent restraining order brought against him by Brit and her dad.
The only hitch in Sam's argument — No one's saying he ever threatened to get physical.
What was alleged by Brit's lawyers was that Lutfi was saying he would air some Spears family dirty laundry in public. Of course, the singer's people say even that dirty laundry is a figment of Sam's imagination.
The tenacious Sam Lutfi — always good for a giggle... unless you're Britney, that is.