NEWS
Samantha Harris Thinks JR Martinez & Ricki Lake Will Be in Final Two on 'Dancing With the Stars'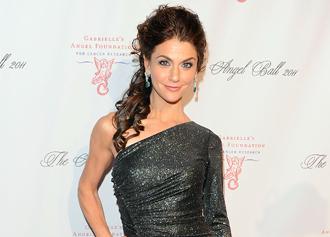 Samantha Harris certainly has a lot of Dancing With The Stars knowledge after being a co-host on the hit show for so many years! So when OK! got to exclusively chat with her at the DL1961 showroom in NYC in celebration of her new "Samantha" jean, we had to ask her about the hit competition show.
Who does she think is going all the way? Ricki Lake and JR Martinez!
"I'll be surprised if we don't see Ricki and JR in the final two. I think it's really a race for the trophy between the two of them. Rob Kardashian has the Kardashian army of fans behind him, if he can step up his showmanship one more notch, he has a good chance to go pretty far. And Chaz Bono I think has been surprising a lot of people. I think those will probably be the final four, but Ricki and JR will be the final two."
Article continues below advertisement
Does she think Chaz can keep going? "Once it gets to two dances a week and sometimes three dances, it's is cardiovascular-ly so demanding and no one quite gets it until you're in the midst of it. So if he can keep with that then I think he can go far. I don't know. Even the toughest athletes in the most incredible shape have had a difficult time with that schedule. So I hope he can do well."
There have been some surprises this season for the current Entertainment Tonight correspondent. "I couldn't believe Kristin Cavallari went home. I was appalled because she was clearly the best technical dancer on the show. We saw that with Sabrina a few years back. I think unless people assume that they're going to be so good and that Mark Ballas is so ridiculously amazing as a dancer and choreographer that maybe that as viewers they just feel like they'll be safe, we saw that before and they're not. There's a reason that I and now Brooke Burke have a drone of Call, text, log on to vote."
You can see who gets kicked off tonight at 9 pm ET on ABC.