NEWS
SamRo Ditches LiLo by Text?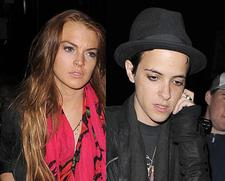 The yo-yo that is the Lindsay Lohan and Samantha Ronson romance has bottomed out once more, with the on-off-on-off-on-off couple reportedly falling apart on Monday night following — shocker — an argument.
According to a report on Eonline.com, the fiery twosome, who had recently reconciled after splitting quite publicly earlier in the year, came to its latest breakup following a dispute that apparently involved discussion of Sam's pal Nicole Richie.
Article continues below advertisement
"Nicole refuses even to be in the same room as Lindsay," E! News quotes a source as saying. And it looks like LiLo and SamRo were arguing about a recent birthday party Nicole held for a mutual friend last week at Bar Marmont; Sam was invited and Lindsay was not. "Sam went to the party, and it really upset Lindsay," the source says.
After having dinner with Nicole at Izakaya on Monday night, Sam allegedly sent Linds a breakup text, letting her know that their relationship was kaput and not to communicate with her.
Meanwhile, Lindsay was back in New York City on Tuesday, shopping and smiling for the cameras.
Why do we get the feeling this isn't the last time we'll be writing about these two?