NEWS
Sandra Bullock on Son Louis: "He's a Little Cajun Cookie!"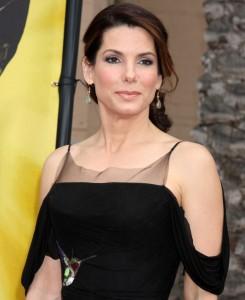 Sandra Bullock has had quite the year – splitting from former hubby Jesse James and adopting a son in the midst of it all. The Proposal star sat down with the Today Show's Matt Lauer to talk about her charitable ways involving a New Orleans High School and also dished on her new bundle of joy!
"He's from New Orleans. He's a little Cajun cookie," Sandra gushed to Matt of her son Louis Bardo Bullock via E! Online, "It felt like it was time, you know?"
Article continues below advertisement
SANDRA BULLOCK TAKES COVER IN TEXAS
Sandra admits that although the adoption process was long, "I wanted to do everything exactly the same way everyone else did."
And the beaming new mom was just glad that she was able to adopt, revealing that "we" (referring to her soon-to-be ex-husband Jesse) didn't care about anything, except giving a child in a need a loving home.
"I think everything works out the way the universe wants it to work out. And—and we—we had always said that it didn't matter where the child came from. If they had issues that were medical issues, we didn't care. It's like the child that needed us in the home is the child that's going to be placed."
Keeping the adoption under wraps wasn't an easy task in the middle of a media frenzy surrounding her divorce: "I mean, I read something like, how did someone keep a secret, and it's—you know—human beings exist that have integrity that know how to keep their mouth shut. That know the bigger picture, that don't sell out their friends."
Article continues below advertisement
SANDRA BULLOCK RUNS ERRANDS EFFICIENTLY
Ecstatic to be a new mom, Sandra's split from Jesse, after finding out about his infidelity, seems like water under the bridge.
"And you know, it—everything passes. It all passes," the 46-year-old explained to Matt, "I have friends and family that are filled with massive amounts of integrity. And it shouldn't be an oddity." And hopefully from now on, for Bullock, it won't be."
Sandra's interview with Matt will air on Tuesday's Today Show on NBC.