NEWS
Sara Evans Puts Family First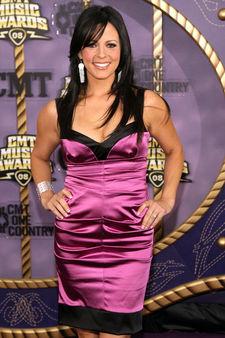 Newlywed Sara Evans got some Alabama love when she performed at the CMA Music Festival: Country's Night To Rock, which aired Monday. Her hubby, Birmingham DJ Jay Barker, brought the hometown crowd to Nashville's LP Field.
"I had a lot of people with Alabama hats and t-shirts," she says. "This is a new thing at all my concerts."
Since marrying in June, Sara, 37, has added four stepchildren – Andrew, Braxton, Sarah and Harrison – to her brood, which also includes her children -- Avery, 9, Olivia, 5, and Audrey, 3 -- from a previous marriage. Why is Jay a great dad?
Article continues below advertisement
"He's one of the most amazing fathers I've ever been around," she says. "He had a great father himself. He was taught really well. He's very patient. He's the kind of guy that coaches, he's a mentor to children – he always has been – and he's a natural with kids. He's very hands-on."
She continues, "He reminds me of my two brothers, actually, which is probably one of the reasons I love him so much. He's very maternal. I don't know if that makes sense to say about a man, but he just knows what to do with children, whether it's cooking for them, bathing them or teaching them lessons. I feel so blessed on behalf of my children that they get to have him as their stepdad."
MORE ON:
Red Carpet Confidential
Sara's family has relocated to Birmingham so that the kids can be together as much as possible.
"It's just tons of love and tons of joy," she says. "Our goal is to try and blend it, and when they look back on this and they're adults, they'll literally feel like they came from a family of seven kids."
Why are they great together?
"He's always, always putting me first."