NEWS
Sarah Butler Stops By 'The Howard Stern Show'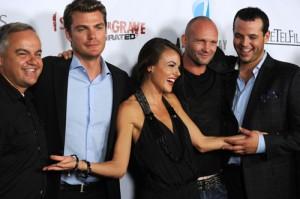 Hot new star Sarah Butler stopped by The Howard Stern Show on Thursday to promote her first hit film, I Spit On Your Grave. Sarah admitted her parents were so proud of her they went to the screening despite having to watch their daughter in a rape scene.
OK! GALLERY: SARAH BUTLER "SPITS" & BECOMES A STAR
Sarah had a lot of support from family at the premiere of I Spit On Your Grave, even though the subject matter of the film is not family friendly.
Article continues below advertisement
"They both came to the premiere. And my little sister... my mom and my sister left in the middle of it. They left for the raping," Sarah told Howard Stern during the show. "But my Dad stayed... he kept on giving me the thumbs up, for every kill."
Though it was difficult for them to watch, Sarah's parents are proud of how far she's come.
The actress said she first went to L.A. to go to college for acting at USC for about a year-and-a-half, but then decided to drop out and go to Disneyland to play Belle from Beauty in the Beast.
OK! NEWS: HOWARD STERN — "HANG IN THERE, DAVID ARQUETTE"
"A lot of the Beasts were kind of hot there," Sarah confessed, "under all the costumes."
"I had some crushes. There was a Beast," the 25-year-old star said. "It's just the connection was so strong between us because of our characters."
But it looks like Sarah's Disneyland days are a thing of her past now for this rising star!