NEWS
Sarah Hyland & Matt Prokop Talk Living Together: 'It's a Lot of Firsts'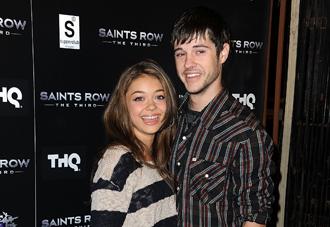 Sarah Hyland and Matt Prokop not only date, they also live together and work together! The two, who star in Disney Channel's Geek Charming (airing tonight!) opened up to OK! about the film and sharing a home.
Sarah, 20, explained how the two first got involved in the project. "Disney just contacted us and was, like, 'Hey, do you want to do a movie together?' We said, 'Yeah, okay, sure! When? Where? What time's our flight?' They were, like, 'Don't you want to read the script first?'
Article continues below advertisement
"Then we read the script, and we were, like, 'Yeah, okay, for sure then!' We just wanted to do a movie together."
What was the best part of working together? Matt, 21, said, "Honestly, the best part was we met so many people out there. Like, we don't really do a lot of things where it's, like, a bunch of people our age. And for this one, it was like we had so many 'classmates,' as we call them. Some different ages, but we were all pretty much within two or three years of each other. We just made so many friends on- and offcamera, it was so much fun. Our characters didn't really matter because we were all friends in the end."
Sarah chimed in, saying, "I was hanging out more with the geeks than the popular crowd. It was so weird: We'd be filming, and I would be sitting up on, like, the ramp with the populars, filming a scene and, if we had a break, I'd sit at the geek table and be like, 'What's up, guys?'"
OK! NEWS: SARAH HYLAND TALKS POTENTIAL PROPOSALS & JEN ANISTON — "I THINK HE SHOULD DO IT PRIVATELY"
Sarah and Matt also live together in L.A. and, being from NYC, it's Sarah's first time living in a house!
"I love living in L.A. It's quieter. It's much more relaxing. I'm living in a house for the first time ever. I have a backyard for the first time ever; a dog for the first time ever. So it's a lot of firsts, and I love it so much. It's just so different. It's a nice change of pace." They even have a dog named Barkley Bixby!
Not that he's biased, but Matt tells OK!, "He's the best."
Catch Geek Charming on Disney Channel at 8 p.m. ET.