NEWS
Sarah Hyland Talks Potential Proposals & Jen Aniston: "I Think He Should Do It Privately"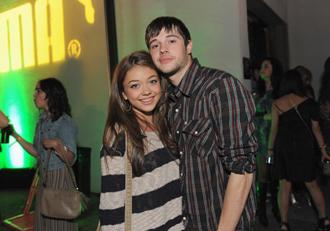 When Sarah Hyland and Matt Prokop were on The View earlier this fall, Barbara Walters almost had him propose to his long time GF! The young couple opened up about this situation to OK! and if Justin Theroux should ever publicly propose to his own girlfriend Jennifer Aniston.
"Barbara Walters put me on the spot!" Matt exclusively told OK!. "I was like well ok she was like looking at me and she gave me a fierce look. When Barbara Walters gives you that look it's like you just got to do something. And yea it worked, it was fun. Apparently it was the first ever proposal slash fake proposal on The View."
Article continues below advertisement
OK! NEWS: JENNIFER ANISTON ADMITS SHE'S IN LOVE WITH CHELSEA HANDLER
"She was like figure it out in 10 minutes. I was like hey that's a life changer right there. "
Sarah agreed saying, "Yea Barbara. Don't push things!"
When OK! asked the couple what Jen and Justin should do the two agreed they should probably have a private engagement.
Sarah told OK!, "Honestly I think he should do it privately."
"Jen played my mom in like the second movie I ever did The Object Of My Affection and she's had so much public stuff happen to her with her love life especially that I think it should be private," Sarah shared. "She should enjoy it for herself. But it's a good thing so maybe it should be public so that the more good love life publicity for her will be there. As long as she's happy that's all that matters. "
Would they ever want to get engaged for real in the public eye?
Matt said, "I couldn't do it on live TV. I'd get scared. It's too personal."
"It's so personal," Sarah added.
OK! NEWS: BEN STILLER SAYS JENNIFER ANISTON & JUSTIN THEROUX "SEEM TO BE REALLY HAPPY TOGETHER"
There's only one scenario you'd see this couple take the plunge in front of an audience. Matt tells OK! "Unless like it's one of those things like at Disney Land like do it like full on in costume as like characters in like front of the castle. That would be awesome."
You can see more of this cute couple when their Disney Channel film Geek Charming airs Friday night at 8pm ET.