NEWS
Sarah Jessica, Kim, Cynthia Reunite For 'SATC' Party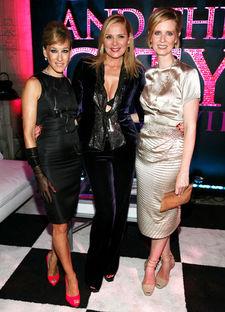 A hot pink light overtakes the New York Public Library setting the stage for the Sex And The City Extended DVD release party. As tunes such as Michael Jackson's Off The Wall and Sade's Sweetest Taboo blare, a woman on stilts wearing Carrie's wedding dress greets partygoers. Talk about a feat!
Indeed, Sex And The City is having its night – again.
"It's exciting," Sarah Jessica Parker says. "I'm thrilled anybody showed up."
Article continues below advertisement
What was her favorite part of playing Carrie?
"I loved her," she says. "She was smart and stupid, funny and a wreck, viable and playful. It was a once-in-a-lifetime opportunity, and I'm happy it ended up in my lap."
Ironically, SJP lives on the Sex And The City bus tour route.
"It's pretty funny. I can't believe I live right there. Everyone is very nice. A few days before the movie opened, I happened to run into a large group. They were very enthusiastic, and I was literally running to an appointment, so I didn't get to spend as much time with them as I had hoped, but everyone's always very sweet."
Here is the lovely Kim Cattrall, who is always super-friendly. How did she pack on the pounds for the scene where she sports a paunch? "I wore jeans that were two sizes too small, and kept sticking my stomach out as far as it would go."
Does she miss having Patricia Field tell her what to wear?
"Every time I see her, I go, 'what do you think? Do you like it? Do you like it?'" Kim says. "She's like gravelly voice 'I like it, but I like the purse better than the last purse.' She's always checking in and chiming in. 'That's fierce girl, fierce.'"
MORE ON:
Red Carpet Confidential
Article continues below advertisement
Cynthia Nixon says she'd like to see the girls "go off on a madcap adventure somewhere" for the sequel.
Meanwhile, Mario Cantone is praying the part of Carrie in The Carrie Diaries doesn't go to Miley Cyrus. "I just don't get it. That's just me, and I'm 90. I'm not a little girl."
What memento did he keep from the set?
"I kept my tuxedo jacket from the wedding, which I love," Mario says. "It was a vintage 60s After Six jacket. It was stunning. And the purple tie. I got it. Shellacked!"
Candace Bushnell says it's "too soon" to talk about The Carrie Diaries, opting to dish on her new book One Fifth Avenue, which hit shelves this week. "There's so many scandals. There's art theft, there's real estate, sex. It's New York, baby!"
Willie Garson has some ideas about Carrie as a 14-year-old, though. "I think she'll be a smart girl. Maybe more of a studious girl than a big party girl. To get to the point where Carrie is when we knew her, a lot of reading had to have gone on. She's plugged in, she has a good sense of people. It'll be interesting to see if Candace does that."
Sex And The City's Extended DVD Cut is out Tuesday.