NEWS
Sarah Jessica Parker Confesses: "Yes, I Am Aging"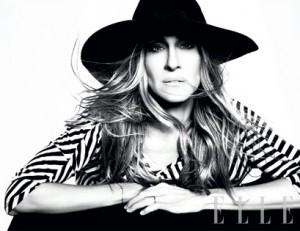 Sarah Jessica Parker may be 45 years old and the mother of three, but she has no interest in turning back the clock when it comes to her looks. SJP tells Elle magazine in the January issue that she's embracing aging naturally.
OK! GALLERY: SARAH JESSICA PARKER HOLDS HER LITTLE MAN'S HAND
"I don't know what I can do about the aging. Yes, I am aging," Sarah admits to Elle. "Oh my God, I'm aging all the time. It's like those flowers that wilt in front of you in time-lapse films. But what can I possibly do? Look like a lunatic?"
Article continues below advertisement
Rather than worry about some wrinkles, Sarah has some little ones to look after.
"Meeting them is hard to describe. Everything is suspended," she explains of meeting her twin girls after their birth. "I can't even tell you what other sounds were in the room. I loved them immediately, but everything — their size, the shape of their heads, the color of their hair, their noses, their eyes — was new to me. They looked surprisingly different from James Wilkie, which I wasn't expecting."
But her daughter Tabitha is already looking up to mom's stylish ways.
"She's crazy for bows; she wants her head covered in them."
OK! GALLERY: STARS BRING BLACK MAGIC TO THE BIG APPLE FOR HARRY POTTER PREMIERE