NEWS
"Sarah Left Me Because I'm an Imbecile," Says Kimmel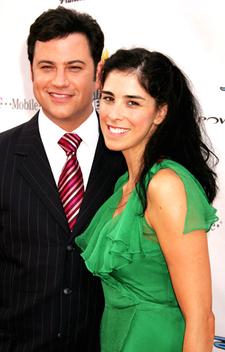 Okay, we'll give Jimmy Kimmel this much — He's done some stupid things in his career.
But we still think he's being a little hard on himself when he says that Sarah Silverman dumped him because he's "an imbecile".
When the late night host appeared on The View Monday morning dressed as one of the show's former co-hosts, Rosie O'Donnell, the ladies of the round table quizzed him about the latest break-up with his on-again-off-again girlfriend.
Article continues below advertisement
And when Barbara Walters asked him what happened, he said: "What do you think happened?
"I'm a 41-year-old man with a bra filled with Koosh balls: I'm an imbecile.
"She couldn't date an imbecile anymore."
But poor Jimmy didn't seem too thrilled with the on-air grilling.
"The only thing better than breaking up," he sighed, "is going on The View right after you break up."