NEWS
Sarah Palin and Kate Gosselin Take Over TLC & the Outdoors!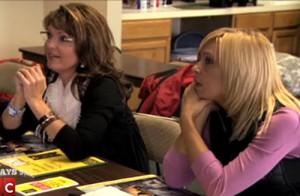 After at powerhouse decision by TLC, Sarah Palin and Kate Gosselin's joint effort for the network finally aired last night! The former GOP vice presidential candidate and reality TV's most famous mom went on a little camping trip in the latest episode of Sarah Palin's Alaska.
After last night's episode, it's safe to say Kate is not a fan of the great wide open. The mom of eight complained about everything from the cold to the moose hot dogs.
Article continues below advertisement
OK! GALLERY: KATE GOSSELIN CONTINUES BIG SPENDING IN THE BIG APPLE
At the end of their camping escapade, Sarah quipped, "Well, I thought we were gonna go camping with the Gosselins… Turned out, we didn't. We had lunch with them on a sand bar."
"I held it together as long as I could and I am done now," Kate shared of her trip with the Palins. "We're going where there's warmth and dryness."
But Sarah admitted her passion and love for the wild is not for everyone.
"I suppose if she took me to New York City or some red carpet event," she said, "I'd be the same way, like nah, get me home."
Catch the teaser for the episode below, and more on TLC.com!