NEWS
Sarah Palin: NAFTA, Africa & Those Darn Clothes!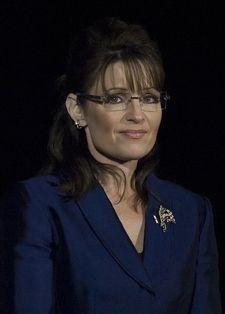 Now that she's no longer in the running for vice president of the United States, Alaska Governor Sarah Palin is speaking out about the slack she took during the campaign.
In her first post-election sit-down interview with Fox News Channel's Greta Van Susteren airing tonight during On the Record, the governor reveals what she really thought about wearing those expensive campaign clothes!
"I did not order the clothes. Did not ask for the clothes. I would have been happy to have worn my own clothes from day one," she says. "But that is kind of an odd issue, an odd campaign issue as things were wrapping up there as to who ordered what and who demanded what."
Article continues below advertisement
She continues, "I haven't really heard how all of that evolved until we started getting criticized for supposedly asking for all of these clothes, my family and me. And I still don't have all of the answers. But it just seems like such an irrelevant issue when you consider what is going on in the world today and how a new administration is being ushered in and people being concerned about the direction of the nation and policies that will be adopted and also being excited about this moment in our nation's history, clothes just seem irrelevant."
Governor Palin says she finds it "puzzling" that critics accused her of not knowing--among other things--what countries made up NAFTA or whether Africa was a continent or a country.
"I remember that discussion," she says, referring to NAFTA. "But there was never a question about, well, who are the participants in NAFTA? So for my discussion there to be spun into something that it was not and then being broadcast on national television, again, based on anonymous sources, that's been another puzzling thing to me."
Article continues below advertisement
So, is Africa a country or a continent? "Never, ever, did I talk about, well, gee, is it Africa a country or is it a continent?" she says. "I just don't know about this issue. So I don't know how they took our one discussion on Africa and turned that into what they turned it into."
Now that she's at liberty to do so, the Governor admits there were some things she would have changed about her campaign.
"I would have preferred more opportunity to speak to the media more often, because there were a lot of things that I think it could have, I should have said that could have helped John McCain," she says. "And I would have liked to have had more opportunity to be out there speaking on his behalf--because he's so humble he doesn' t do that himself. He did not, I believe, take enough opportunity to let people know the challenges he's overcome, his ability to face adversity."
Article continues below advertisement
Of being accused of going "off the script" during the campaign, Palin says, "Once in a while I would say something that--hey, I said it from the heart. I believed in going off script once in a while in some of the rallies in order to really reiterate something that I believed about John McCain."
She adds, "Maybe it wasn't written in the script, but so what? Geez, if this is all going to be so scripted and kind of like a movie screen and we have to follow verbatim everything somebody writes for you, I don't want any part of that. That's not who I am, and not who John McCain is either."
As for her plans for 2012, Palin says she can't "predict what's going to happen a day from now, much less four years rom now," but that she prays to God to not let her miss an "open door."
"Even if it's cracked up a little bit, maybe I'll plow right on through that," she says. "And if there's an open door in '12 or four years later, and if it's something that is going to be good for my family, for my state, for my nation, an opportunity for me, then I'll plow through that door."
For now, however, Palin says she understands what the outcome of the election means. "At the end of the day, American voters spoke. It's the will of the people that it was not our time, and our message was not the message of change that the majority of voters wanted. So be it."
Catch the entire interview on Fox News Channel's On the Record tonight!