NEWS
Sarah Silverman Tells Howard Stern: "No Problem" Going On Jimmy Kimmel's Show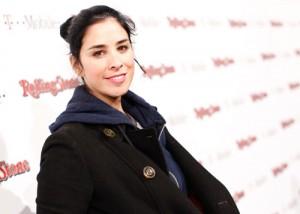 Before Sarah Silverman headed to go chat with Howard Stern today she Tweeted, "Dear sweet Jesus please don't let me piss anyone off." Well, we think she may have accomplished that mission with the exception of an ex-boyfriend... or two.
OK! GALLERY: STARS PARTY AT ROLLING STONE'S AWARDS WEEKEND BASH IN HOLLYWOOD
Sarah Silverman stopped by to talk to Howard about the paperback release of her book, The Bedwetter, and naturally conversations turned to pot, ex-boyfriends and dirty mouths.
Article continues below advertisement
"I can't work with pot," Sarah shared. "I can't do stand-up on pot. But when all work is done, on vacation, I like a little pot... when I menstruate, it's the only thing that makes cramps go away. And also I like it."
And she also still likes her ex-boyfriend who she was dating the last time she chatted with Howard until "something happened" and they broke up after she turned 40.
"I just want to be free. I don't want to be anybody's girlfriend. I don't want to be responsible for anybody's happiness," she explained. "I just want to be able to love people. I still totally adore him, you know. There isn't anybody else. I'm not looking. And uh, I'll totally have sex with him, basically. And that's what we do."
But she's not as close with her other ex-boyfriend, Jimmy Kimmel who has a new girlfriend, Molly.
"I bump into them all the time."
But not on his show. Why is that?
"You'd have to ask him. I have no problem going on the show." Sarah said. "His girlfriend works at the show... but she usually gives me a hug and it's no big deal."
OK! NEWS: SARAH SILVERMAN ADMITS SHE HAD THE WEIRDEST TIME BEING SINGLE
Article continues below advertisement
Sarah has an upcoming nude scene in Peep World and has no problem with it.
"We're all naked and the set is closed... we're all in the same boat," she explained to Howard. "I have a sporty body. I don't go in in the waist." Sarah later corrected herself, saying she should have a better attitude: "I want to be as comfortable with my body as I want young girls to think that I am."
But she'd never do a sex tape.
"If I ever saw a video of myself having sex, I would never have sex again. I would kill--" Sarah said. "It's like I talk in tongues. You know, I'm very quiet at first but once it gets going, I can't even control myself. I talk dirty. I like to talk dirty... I talk about the penis."
And it seems that mouth even has a problem being controlled in front of the President!
When Sarah met President Barack Obama she said they chatted about movie and she blurted out she'd be naked in her next film.
"The thought of a lonely robot in space kills me." When the President didn't agree, Sarah blurted out that she was going to be naked in her next film: "I was so embarrassed," she recalled. "I had no control over my mouth."
So it makes sense she was worried about chatting with Howard!