NEWS
Sarah Silverman Admits She had "The Weirdest Time Being Single"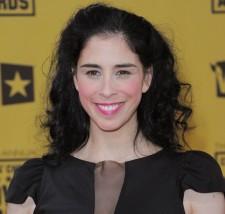 Comedian Sarah Silverman confesses that she felt isolated after her split from talk show host Jimmy Kimmel.
"This was the weirdest time being single. I've always had long relationships, so I've never been single when people on the street know who I am," she tells Page Six magazine via Just Jared.
OK! NEWS: SARAH SILVERMAN STRIKES BACK
"And it made it so… it felt a little isolating. Part of the fun of meeting someone is having them discover you. You're doing your little tap dance, like, 'This is me!'
Article continues below advertisement
"And then the person has all these preconceived notions, things that are partially true and partially not."
OK! NEWS: JIMMY KIMMEL SARAH LEFT ME BECAUSE I'M AN IMBECILE
The foul-mouthed comic also shared her thoughts on David Letterman's recent sex scandal.
"Well, it didn't surprise me at all. Is it so crazy? It didn't blow my mind, and it didn't make me love him less, because the reasons I love him don't have anything to do with who he's sleeping with," says the 39-year-old.
OK! NEWS: DAVID LETTERMAN IN $2 MILLION EXTORTION PLOT
"I mean, I can't imagine he's the nicest man in the world, but I love 'talk show host' David Letterman. I'm not looking to have him be a United Nations representative. The same thing with Tiger Woods. We're all so shocked that an athlete is f****** people?"