NEWS
SATC 2 Designer Patricia Field Tells All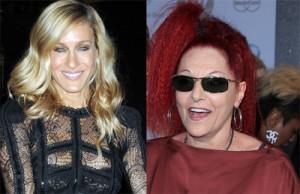 When I meet Patricia Field at her mod NYC home, she's bubbling over with excitement about Sex and the City 2, which opens Thursday.
Sitting down to nosh on a spread of tofu, seaweed, chicken, tuna, black cod and sushi, the costume designer -- who is accompanied by her white poodles Saldana and Puti -- shares behind-the-scenes tidbits from the set and how fans can inexpensively recreate the looks during a Payless-sponsored conversation to tout her line of shoes, bags and accessories.
Article continues below advertisement
Psst! From the mirrored refrigerator to the bar-style kitchen to the lounge-like living room, this space is perfect for entertaining Sarah Jessica Parker, Kim Cattrall, Cynthia Nixon and Kristin Davis.
OK! NEWS: PATRICIA FIELD ON 'GREEDY' SARAH JESSICA PARKER — SHE CAN'T STOP!
How many wardrobe changes did Carrie go through in this movie?
In this movie, it wasn't as many. The first movie had about 120. This was about half – maybe 60 or 70, but I think they were much more fabulous in this movie because they gave me this desert and these sheikhs and all this craziness. They gave me a backdrop that made me go cuckoo. But it was less, even though it seems like more. When I was looking at the movie, it seemed like more clothes – maybe because they were much more spectacular.
Who do you have the most fun with in terms of wardrobe – Carrie or Samantha?
It depends. I had a lot of fun in the movie and especially the last movie with Miranda because the actor itself had a transformation. Her transformation gave me inspiration so it was a lot of fun to do it and see the difference.
Could you share a story about your favorite fashion item in the film?
There was a robe by Gaultier, and it was a man-tailored robe that was on Samantha. It's chartreuse silk, tone-on-tone striped. But the thing had a ten-foot train, so it's a man's robe with a soft belt with a shawl collar, like a regular classic, but it has a ten-foot train.
Article continues below advertisement
I thought that was hysterical – she has to wear this and walk around all the time in this palace of hers that she's staying at.
What was the 80s flashback like?
This was the scene I was the most frightened of the outcome in the whole movie because there were these 40-50 year-old women in these 80s clothes and how is this not going to look ridiculous? I was like 'oh my God.' If you remember in the first movie, at the beginning, she's in Tiffany's and she's talking to herself. But they're young girls, and they represent her and her friends. It worked. They were young and cute. But this was older women in 80s outfits – it's going to look like Halloween – more costume. It was hard. But I saw the movie, and it worked, thank God, because I was worried. I thought either they had to make a complete joke of it and laugh at themselves, but they did something else, which was great. They flashed it so fast that all you got to see was an image. You didn't get to see the wrinkles. It was a flash. It was comical.
What's the standout piece in the film?
The Halston dresses are standout pieces. There are a few of them that are absolutely gorgeous. There's a pleated purple one, the red one. The movie, the TV show, the second one … They don't, in the end, produce the same pattern. It's a new pattern and a new day, so whereas in fhe first movie, it was the studded belt and those gladiator shoes.
To me, it was more about the clothes. The shoe was whatever shoe went with it. Whatever shoe works. It wasn't a brand and it wasn't a gladiator. It was a myriad of shoes. I like pumps – a classic, tapered, light shoe. You know the gladiators – what happens when there's a trend, it gets to a point where you can't look at it anymore, like 'stop!'
Article continues below advertisement
But other things, like the Halston. I see the Halston everywhere. When the movie comes out, we'll see other things unfold. Maybe it's a little lucky charm because it looks beautiful on Carrie. She likes it, so she wore it a lot. It's the small things. It takes a closeup a few times to catch it. The white dress, opening scene.
Who designed the lucky charm necklace, and how much did it cost?
A friend of mine, Chahan Minassian, who is a jewelry designer sent it over, and she wore it four or five times – a little clover. Very pretty. It was about $20,000, but he loaned it to her.
I created a similar clover for Payless. That's what it's about. We are not an aristocracy. We don't have rich ladies with dress makers and couturiers. We are girls from the prairie. It's a whole other head trip, and the world gets onto us.
Any items you chose for one actress that ended up being worn by another?
Yes. I had this hat – Samantha's wearing this white leather, and it has a skirt all around it, they're walking in the desert. I made that hat originally for Kristin Davis, for Charlotte, because I was trying to sell Kristin on the idea of 'who are all these girls who are going to the Middle East? Who are these people out there in the Middle East walking around?'
MORE ON:
Sarah Jessica Parker
Article continues below advertisement
Miranda's like the rich, white lady from Out of Africa – that look. She could sell that.
And Charlotte, because of her beautiful dark hair, I imagined her as Cleopatra. In my mind, it should not play a factor, but I thought Cleopatra's going to play my inspiration for her. I tried to get her to cut a bang.
I don't remember if she didn't like it, but whatever. She wore something more Charlotte-y than Cleopatra-ey. It was a sun hat – a classic sun hat – which is fine.
I said to Kim 'try this hat on, it's stylish, it'll go great with your blonde hair, it's a little eccentric, and you can carry it off.'
She wore the hat I designed for Charlotte. That's the one I remember immediately.
There was another one – and she looked gorgeous in it. There's a wedding, and the gown that Miranda wears to the wedding is from Julien MacDonald, a British designer, and I got that gown originally for Kim, but it was too narrow for Kim. Kim – she's broad-boned. She's thin, but she's got a bigger structure. It was too small. So it was hanging there, and when Miranda came through for a fitting and we were doing that wedding scene, I said 'try this on,' but she's got a much smaller frame. She looked gorgeous in it. I don't know if it's Miranda or not Miranda, all I know is you look at her, and she looks fabulous and everybody's happy.
Article continues below advertisement
Were any affordable brands used in SATC 2?
I used some vintage plaid shirts. I don't know how much anything costs. I didn't have much motivation to watch my pennies because it's a big success. Some projects you have $5,000. I said 'that's cute, that's cute.' We used Payless shoes a lot in the movie on many of our other actresses because there's volume, and Payless sent me a selection of shoes, which I happily used. I used all prices. For me, it's not so much about the price as it is about what it is.
It doesn't take money to have style. That's the main thing.
How can a fan replicate these looks?
They're not impossible to replicate, whether they're clothes or they're chiffon things. The whole world replicates. You can do it that way, or you can do it stylistically.
In the movie, it was from the series, it was a Galliano newspaper dress, she wears it in New York. I'm not going to tell you why she wears it in the movie because I'm not going to spoil the plotline, but she wears it again, and there's a reason to replicate that dress.
Article continues below advertisement
In my store, I was pulling different black and white things, a graphic kind that could give you that same feel. It's black and white, it has a top and leggings. You can replicate the black and white poster shot with some black-and-white or newspaper prints. They're pretty popular.
I like to put together two belts, so you can wrap it around two or three times. You can pair a vest with a newspaper print dress, and also put some new ideas with it.
What was it like shooting in Morocco?
It was positive. Morocco is not the Middle East. It's eight hours away by plane. They're faraway. Morocco is North Africa, it's partially on the Atlantic and partially on the Mediterranean. They have a big history with Europe and with France and Spain. They're very close.
Morocco is a blend of Africa, Spain and France. It's international. Even though it's Third World, it's got an international history.
Article continues below advertisement
The people are nice, calm and happy. They dress colorfully. They're Muslim, so the women put something on their heads and the men wear different hats. But it's not the Middle East. It's a whole other feeling, a whole other people. That was nice. They have great music, they're friendly, nice people. I enjoyed it. I enjoyed the food, the culture, the people I worked with were total pros.
It's beautiful in front of your eyes. The dawns are gorgeous. There was a series of scenes on the desert, and we flew to the desert from a different location and a different hotel, moved to the desert, but even the hotel we were staying in was an hour from the interior of the desert, so we would start our day at sunrise and start shooting. We would leave our hotels, and it would still be dark. We would drive an hour to the desert and on the desert. The sun was coming up, and you'd see in black silhouettes, these palm trees with this golden sun behind it. It's stunning. It's nice to be in a surrounding that beautiful.
(Bonus: We're gifted with a replica of the four-leaf clover necklace Carrie wears in the sequel.)
Catch Sex and the City 2, which is in theaters tomorrow. And pick up the OK! on newsstands this week for coverage of the SATC 2 premiere, travel feature on Morocco and how you can recreate the looks from the sequel. The cover line is Kendra/Kim/Audrina: "Boob Jobs, Botox and Lipo."