NEWS
'SATC 2' Star Dishes on SJP's Style Secrets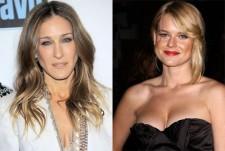 It's an exciting time for Alice Eve, whose movie She's Out of My League is in theaters now. The London-born starlet, 28, will play Charlotte's "hot nanny" in Sex and the City 2.
One thing that mesmerized her about Sarah Jessica Parker is a skill she's carefully crafted out on the streets of NYC.
"How she could run in her heels!" Alice marvels. "I couldn't really believe it. She was amazing on them."
What style tips did she learn on SATC 2 set?
Article continues below advertisement
"Well, I certainly learned that if you're going to wear heels, you wear them all day and you don't complain," she tells me.
Alice's fashionista side is also on display in the romantic comedy.
"There are some lovely Louboutins in She's Out of My League," she says. "We have some high fashion in that movie, too. We did a lot of traveling to New York to find the outfits. We spent a lot of time in Barney's. I'm pretty proud of that, too.
MORE ON:
Leonardo DiCaprio
She's grateful for the fashion fixes she picks up thanks to a career in showbiz.
"I'm learning as I go," she says. "At university, I learned how to write essays, and as an actress, I'm learning about fashion because it's a huge part of that world."
Still, Alice is not all about the style tips picked up in the industry. She also looks forward to entering the celebrity dating pool. Psst… Bar Refaeli should watch out because Alice is scoping out her man — she names Leonardo DiCaprio as her celebrity crush.
Article continues below advertisement
"He's been in my life since he was a teenager. I feel like he's already my boyfriend. He was Jack in Titanic, and he seems like he's a man. He's gorgeous, but he also seems like he's chivalrous, and I think chivalry's important."
Wait, this British bombshell isn't obsessed with Robert Pattinson?
"I think he's got a beautiful face but I don't find him as attractive as Leo," she says. "But teenage girls the world over have a crush on vampire Pattinson."
Hmm, how does she deal when a guy who is out of her league is attracted to her?
"I see if he can make me laugh," she says. "If he can, I usually can't resist him."
She's Out of My League is in theaters now.