NEWS
SATC 2 Stars Mingle With Celebs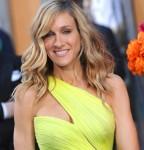 Throngs of fans line the streets outside NYC's Radio City Music Hall when Sarah Jessica Parker does the unthinkable, wades into the crowd to sign autographs -- bodyguards in tow. The Valentino-clad fashion icon knows just what place the fans hold during the Sex and the City 2 premiere held Monday.
"I hope it's a great experience for the audience," she says on the baby blue carpet as hubby Matthew Broderick chats up a pal on crutches. "That's what's most important to me."
Article continues below advertisement
As Kristin Davis, Kim Cattrall, Cynthia Nixon, Chris Noth and Jason Lewis stroll through, Cynthia's girlfriend, Christine Marinoni, sings her praises.
"I'm very proud of her," Christine says. "She looks great."
Whitney Port, Jennifer Love Hewitt, Liza Minelli, Orianthi, Hoda Kotb, Estelle, Jessica Szohr (wearing a curious back-zip pantsuit), Padma Lakshmi, Gabourey Sidibe and Petra Nemcova get ready to take their seats.
"You want to look cute because you're coming to such a fashion event," Moschino-clad Whitney tells me of the pressure of getting ready for this premiere.
The City star most relates to Carrie, and would choose Aidan as her man.
In real life, however, Aidan (John Corbett) is here with Bo Derek. "As the kids say, she's always got my back," he says.
Here comes Gilles Marini, who totes along wife Carole.
How does he get through a sex scene?
Article continues below advertisement
"The secret is simple. The first time the towel drops, you are scared. The second time, you're like 'OK, no more,' and you see this 250-pound guy with a grip holding a light with a beard, looking at you. It's hard. No pun intended."
Hm, does wife get jealous?
She says, "No, not at all. That's his work. I know there's nothing behind that. He's coming home every night, so for me, it's not a problem."
Up next is Alice Eve, who plays Charlotte's sexy nanny.
"It was amazing slash embarrassing because I'm naughty," she tells me. "I bring a lot of love, actually. But the girls insist that I'm bringing a bit of naughtiness, too."
Would she get a nanny after playing the role?
"No," she tells me. "I wouldn't get a nanny. I'd rent a male. You don't want to bring temptation into the household."
Mario Cantone and Raya Meddine counter reports that SJP has been called the greediest woman in showbiz.
Article continues below advertisement
"No, I'm the greediest woman in showbiz," Mario yuks. "It was supposed to be about me. They got the name wrong."
Raya calls working with SJP "heaven."
She tells me, "She's one of the kindest, sweetest, most fun, down-to-earth people you'll ever meet. Greedy? I didn't see that at all. She was very generous, she's beautiful, she's kind, compassionate. Amazing mom. I have only the best things to say about her. She's generous as an actress. When you're doing a scene, she gives all of herself. She's generous socially. When you talk to her, she's curious, she wants to learn more about you, she asks questions, she's fun, she's a good listener. She's wonderful."
Howard Stern and wife Beth make their way through the crowd.
"I am a big fan," he says. "I'm not afraid to admit it."
What can men learn from SATC?
With wife Melania by his side, Donald Trump says, "The city is unimportant. The sex is very important."
Sex and the City 2 hits theaters Thursday.