NEWS
SATC Showdown?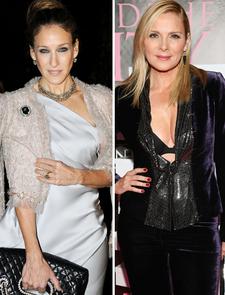 She caused tension among her costars by holding out on the Sex and the City movie, and now Kim Cattrall is causing trouble again — by confirming the sequel without
producer Sarah Jessica Parker's say-so.
On Nov. 4, Kim announced to Spice Girl Mel B on British television, "Yes, there will be a sequel," prompting Sarah Jessica to retaliate with a statement of her own two days later.
"I'm thrilled to know Kim is excited, but all the deals are not yet done," the star, aka Carrie Bradshaw, told Access Hollywood.
Article continues below advertisement
But Kim's announcement came as no surprise to her friends: "Kim told me this summer that she was doing another movie," on-set photographer Steve Sands tells OK!. "They all know they're stronger together than by themselves. How could they not do a sequel?"
As for the rumors that Sarah Jessica resented Kim's popularity as the sex-obsessed Samantha Jones? "Things aren't as bad as people think," says Steve.
And co-star Mario Cantone scoffs at the notion that the divas were at war: "That stuff is crap. They get along great."