NEWS
'Saturday Night Live' Pokes Fun at Tim Tebow & the Denver Broncos!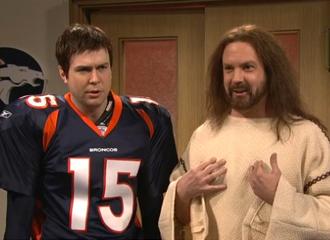 In the hilarious skit from this weekend's episode of Saturday Night Live, hosted by Jimmy Fallon, cast members Jason Sudeikis and Tallam Jillam prove that God really is on Denver Broncos' quarterback Tim Tebow's side.
Jason plays Jesus, who appears in the Broncos locker room to tell the team that he is responsible for their incredible six-game winning streak. (Which, by the way, was just ended by Tom Brady and the New England Patriots last night).
Article continues below advertisement
OK! GALLERY: TOM BRADY AND GISELE BUNDCHEN STILL HAVE SPARK IN BRAZIL!
Of course Tim, played by Tallam, is overjoyed by Jesus' visit, yelling, "He has risen!" before taking a seat on the bench and enjoying Jesus' speech.
But Tim's joy turns to confusion when Jesus lets him know that he has to start playing better earlier in the game, adding that God won't always be there to help him defeat the opposing team in the fourth quarter.