NEWS
Salma Hayek Says Blake Lively is A Lot Like Her: "She Dances, Talks and Eats Like a Mexican!"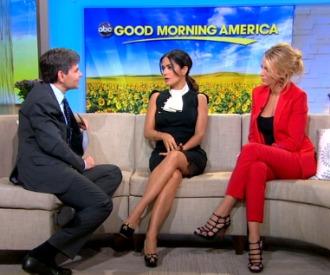 When Salma Hayek stepped onto the set of the film Savages and met her lovely co-star Blake Lively, she didn't expect to hit it off with the Gossip Girl star. But man, was she wrong! The Mexican-born actress revealed on Good Morning America this morning that Blake is more Mexican than she is!
"Totally, totally! She can't fix it," Salma gushed about Blake, who apparently has a lot of 'flavor.'
"I'm close with my family, so we would have dance parties and cook and Salma's mom would bring tamales," Blake explained before Salma cut in.
Article continues below advertisement
"She's totally Mexican, yes!" she interrupted as Blake laughed. "She likes the food, she eats the spice, she dances like some Mexican, talks like a Mexican, eats like a Mexican, spends time with her family like a Mexican, fights like a Mexican... don't think you could push her around, huh!"
OK! GALLERY: BLAKE LIVELY, SALMA HAYEK & JOHN TRAVOLTA LIGHT UP THE SAVAGES PREMIERE IN L.A.
And all those traits were good for Blake to have as she shot Oliver Stone's Savages, which tells the story of a woman (Blake), who is in a steamy love triangle with two marijuana dealers (Taylor Kitsch and Aaron Johnson) and is kidnapped by Mexican druglords (Benicio del Toro and Salma), who threaten to destroy their abnormal relationship.
So you're probably wondering, how is Salma is playing the head of a Mexican drug cartel? Well, she thought the same thing when Oliver informed her that he wrote the role specifically for her!
"He was worried that I had a child and that I was very soft, and it's true, I have softened. But that doesn't mean that I stopped being an actress!" Salma told GMA. "It was a lot of fun and we had a great time doing all the rehearsing and finding the characters."
Article continues below advertisement
"It's such an honor," Blake said of working with the Any Given Sunday writer and director. "He is so intense and passionate and he just expects so much out of you, but he provided us with so much information," she continued. "We met the DEA, we met ex-cartel members, I sat down with a young woman who had been kidnapped by the cartel, so he gave us this incredible well of knowledge and the responsibility to tell this story in a truthful way."
"We met with all of the cartel people... it was a little scary!" Salma added.
Savages hits theaters on July 6.