NEWS
Save The Date: OK! Body & Soul Beach Bash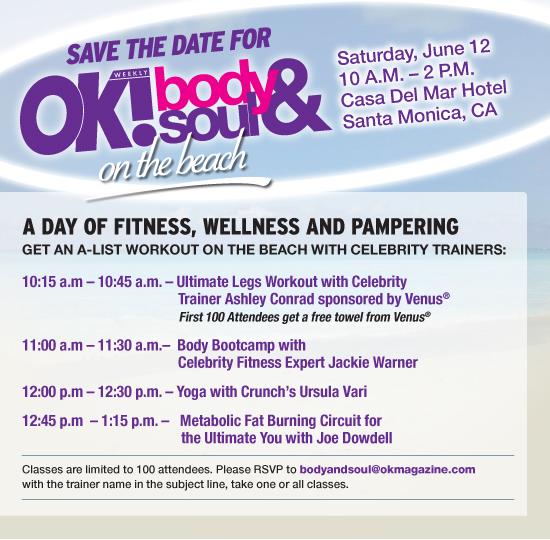 achments/2010__05__okmagazine-bodyandsoulonthebeach2.jpg" alt="okmagazine-bodyandsoulonthebeach2" width="550" height="449" />Jackie Warner
Best known as the star of Bravo's hit reality series Workout, Jackie is proof that women can have it all. In April 2010, the fitness pioneer released her first book This is Why You're Fat (And How To Get Thin Forever). She is the star of two best selling exercise DVDs, One on One Training with Jackie and Personal Training with Jackie: Power Circuit Training. She founded Sky Sport & Spa gym in Beverly Hills and fitness retreat, Skylab. Jackie is also the face of a new campaign called Fit in Your Skin, a health and wellness program she helped develop for people with psoriasis. Next up, Jackie will star and executive produce a new series for Bravo called Thintervention with Jackie Warner.
Article continues below advertisement
Personal trainer and strength coach Joe Dowdell is one of the most highly sought-after fitness experts in the world. His motivating teaching style and unique expertise have helped transform a clientele that includes stars of television and film, musicians, pro athletes, CEO's and top fashion models from around the world an association reflecting his own former career in front on the camera. Joe is the founder and co-owner of Peak Performance; a 10,000-square-foot loft, that was voted one of the top 10 gyms in America by Men's Health magazine. Mr. Dowdell has contributed to the following books: The A-List Workout (McGraw Hill), Lift Strong, Mario Lopez's Knockout Fitness (Rodale Publishing), The Big Book of Exercises (Rodale Publishing) completed his own fitness book entitled ULTIMATE YOU just released this month through Rodale Publishing.
At only 28-years-old, Ashley Conrad has become one of the most sought after fitness trainers in Hollywood. A-List celebrities, professional athletes, and runway and fitness models rely on her signature "Clutch" system, designed to elicit serious results in a short period of time. In 2006, Conrad launched ClutchBodyshop.com, which offers discerning clientele every service imaginable in their quest to achieve a flawless body. The Clutch system is a combination of diet, exercise, and supplementation designed to garner extreme results in just two to three weeks. The system relies on Conrad's fuel nutrition program: foods that boost metabolism, make skin more radiant, and provide an unbelievable amount of energy, and her training program: which blends methods of professional athletes and dancers that shed weight and bring in gorgeous lines of definition. Most recently, Conrad was an on-camera spokesperson for the "Power Plank" infomercial, and is currently planning the launch of her eponymous product line, "Ashley Conrad Products", a line of phyto-nutrient nutritional products.
Article continues below advertisement
Ursula's background is as a former Romanian gymnast. She discovered yoga in 2000 as a last resort to healing a chronic injury she'd sustained. Several surgeries later, her only hope was a no-impact physical discipline. She devotes her life to her practice and teaching the wisdom of the East. Her training includes completion of the teacher-training program at Steve Earth's Power Yoga as well as studies at Maha Yoga with Ish Moran,Steve Ross. Ursula's teaching style combines power yoga elements, also the detailed attention to alignment found in Iyengar yoga with the freedom in flow-style yoga. She likes to create both a playful and challenging practice that inspires self-exploration, balance and compassion. Music is a key part of Ursula's classes, making yoga accessible and fun even for the most novice practitioner.
Celebrity Trainer and Former World Super Middleweight Boxing Champion, Danny Musico was born with boxing in his genes—his grandfather, Dan Marra, winner of the 1935 Middleweight Championship,. From gaining a spot on the 1992 U.S. Olympic Boxing Team, to winning the world title as the Super Middleweight Boxing Champion, is now the leading celebrity personal trainer, and works daily with celebrities such as Toby Maguire, Leonardo DiCaprio, Jessica Simpson, and the entire cast of HBO's Entourage. Musico is successfully channeling the tools he has acquired over the years as a professional boxer to motivate and whip his clients into unbelievable shape with the motto "Get it Done."
Article continues below advertisement
Dolvett is a personal trainer to some well-known names. He works with Tom Catherall, famous Atlanta chef and restaurants owner. Quince trains husband and wife actors Boris Kodjoe and Nicole Ari Parker; NFL Player Daniel Wilcox and his wife Shauna Wilcox. Also, he personally trains Mark Trojanowski, drummer for Sister Hazel. Quince even trains radio personalities like Burt Weiss from All the Hits Q100. Even Janet Jackson has even been spotted using Quince's Body Sculpt Facilities. Lately, he has appeared on VH1's What Chilli Wants, Essence Magazine's Single Guy of the Month (May Issue) and on the Today Show promoting the product, Spanx for Men.