NEWS
Say 'Goodbye' Guys!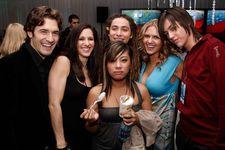 American Idol's latest rejects barely had time to zip up their suitcases before we got them on the phone to look back at the wildest experiences of their lives. Luke Menard let slip about the secret AI boys' club, Kady Malloy announced her future in gay politics and Danny Noriega told us he's leavng LA without a recording contract but with a whole new family. Meanwhile Asia'h Epperson, more than a little bitter about her elimination, let off some steam at the show's producers.
Article continues below advertisement
Danny shrugged off this week's storm over his X Rated Christmas video message saying: "That's something that was so forever ago that it was almost like I was another person." But he couldn't resist teasing us, saying, "I'm actually kind of shocked that they used that one -- there's more interesting ones out there!"
The 18-year-old from Azusa, CA, said that the American Idol Three -- him, David Hernandez and Amanda Overmeyer, who have all had moments from their past dredged up in the media -- had supported each other through the tough times.
It was obvious from the way Ramiele broke down when Danny was voted off the show last night that the two of them had become very close. "She and I are like best friends right now!," Danny explained. "She's my little twin."
But it was more of a surprise to learn that co-evictee Kady Malloy was another b.f.f . on the show. "Kady and me are like freakin' brother and sister. It's weird! When I first started talking to her I thought she would be like a completely different person, and I talked to her and I realised she acts just like me. She's like a girl version of me! We talk the same, we both have like ADD."
Article continues below advertisement
Danny told us that his flamboyant rebel image may have split public opinion on him, but it gave him an army of misfit fans. "This 11 year old boy wrote me and said they admire me for being myself and I showed them that you can be different and successful on American Idol. Little kids think that they can't do things because they are different in certain ways, whether it's sexuality or their race or anything like that."
But he wasn't going to stop chins wagging by finally answering the question the gossips have been asking since Hollywood week: Is he gay? "I think your personal life and your job are two different things and I think people should respect that fine line. Privacy is really important, but I know a lot of celebrities don't get that. But it has nothing to do with your job."
In stark contrast, Kady Malloy, 18, from Houston, TX, says that she wants nothing more than to talk about sexuality. She announced her plans to become a gay rights campaigner, amongst other worthy projects, saying: "I definitely want to open up and animal shelter and I definitely want to keep working on my music. I also want to open up and camp for kids and I definitely want to be a spokesperson for gay rights." "My best friend is gay, Freddy Mercury was gay -- who was my idol. I believe you shouldn't define somebody by their sexuality. Gay people not being able to get married and stuff like that is just history repeating itself and learn from our past."
Article continues below advertisement
Kady got a rep for being the show's resident sulky teen, responding to the judges comments as if they'd just grounded her. So it was a surprise to hear that she actually agreed that she lacked stage presence, if not quite what Simon Cowell called "a massive lack of personality".
No such humility from Asia'h Epperson, 18, from Joplin, MO, who blamed her failure to impress the audience not on her abilities but on the running order. "I don't think I failed myself because I didn't pick what number I was going to go in the sequence of performers. I think I did a very good job -- as good as I could do -- and I do believe that them picking me to go on first was my downfall," she said.
"I definitely think I deserved to be in the Top 12," she continues. "I had such an upbeat song it wasn't proper for me to be the very first person. I had to look at it like if I was in the audience and I just sat down I wouldn't want someone right up in my face singing, I Want To Dance With Somebody. I'd be like, "Woa, woa! Let me get warmed up."
Luke Menard, 29, meanwhile, was clearly having way too much fun to go home to Crawfordsville, IN, yet. He may have hung with the 'old guys'' clique with Michael Johns, 29, David Cook, 25, and Jason Yaeger, 28, but it turns out they weren't too grown up to have their own secret club. "The four of us hung out every day since day one in Hollywood. We really clicked and we hung out every day and we called us the Four Horsemen -- it's just a little club name." A club name? If they'd all stayed in the competition another week it sounds like would have had a treehouse. "We were super excited when we all made it into the Top 24!," he says.
But while Luke says he hopes to be a film star one day, for now he want's nothing more than to go to the movie theater. "I can't wait to go just kick back in the dark where no one will see me and enjoy the movie -- and not have to worry about memorizing any songs!"
By: Oliver Coleman