NEWS
Scarlett: "I'm Engaged to Obama!"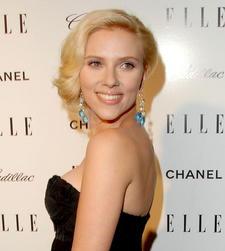 Shrugging off ridiculous rumors that she and boyfriend Ryan Reynolds are engaged, Scarlett Johansson told the Associated Press that her intentions lie with another famous fella — presidential hopeful Barack Obama.
"I'm engaged to Barack Obama," she joked in an interview following her return from Kuwait, where she'd been visiting U.S. troops stationed in the Middle East. "My heart belongs to Barack. That is who I am currently, finally, engaged to."
Article continues below advertisement
Earlier this week, Scarlett's rep in an attempt to put a stop to the Ryan Reynolds rumors, saying there was "no truth" to a NY Daily News item claiming the couple were making plans to walk down the aisle.