NEWS
Scarlett Johansson Opens Up About Her Divorce From Ryan Reynolds: "It Was Devastating"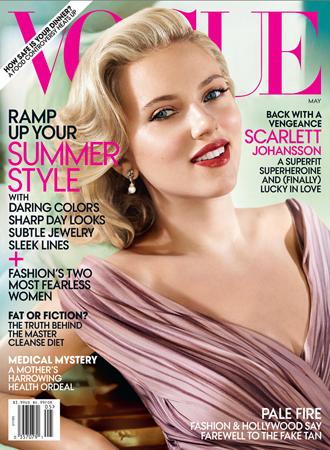 It's been almost a year since Scarlett Johansson and Ryan Reynolds' divorce was finalized, but the actress admits she's still not completely gotten over her ex.
"This was something I never thought I would be doing," Scarlett tells the May issue of Vogue of going through a divorce. "It's a very lonely thing. It's like the loneliest thing you'll ever do, in some way."
OK! GALLERY: SCARLETT JOHANSSON WOWS IN BLACK AT THE GOLDEN CAMERA AWARDS IN BERLIN
Article continues below advertisement
Scarlett admits that her and Ryan's relationship just fell apart, and that she started "feeling very out of my own skin." That's when they both decided that it was time to move on.
"It was horrible," she admits. "Of course it's horrible. It was devastating. It really throws you. You think that your life is going to be one way, and then, for various reasons or whatever, it doesn't work out."
Scarlett says the split was "comically amicable," and that she'll always look back on their marriage as one of the best times in her life.
"It was a beautiful thing," Scarlett says. "The falling in love and getting married and making that commitment . . . I think it's nice to know that you're capable of loving somebody in that way. I think it's a rare opportunity."
"I don't feel on the other side of it completely, but it gets better," she confesses of the divorce. "It's still there. More than anything, it's just that not having your buddy around all the time is weird. There's no rule book. I think it's just time."
And although she has no regrets, Scarlett wishes she spent more time cherishing Ryan and enjoying the time they spent together. "I'm not saying more time in the marriage, but just having more time with my ex and really clocking those hours of face time with the person you love," Scarlett explains. OK! NEWS: RYAN REYNOLDS AND SCARLETT JOHANSSON CONFIRM THE DECISION TO "END THEIR MARRIAGE" Nowadays Scarlett — who confesses that she did "spend time" with the "remarkable" Sean Penn after her split with Ryan — is dating New York-based adverstising creative director Nate Naylor, which she says is "really great." "It must be very strange for him," she explains, smiling. "It's totally bizarre. It's an adjustment — I mean, it's got to be an adjustment for him way more than it was for me at nineteen. But he's really remarkably good about it."