NEWS
Scarlett Johansson Talks About Getting Drunk With Her "Big, Hunky" 'The Avengers' Co-Stars!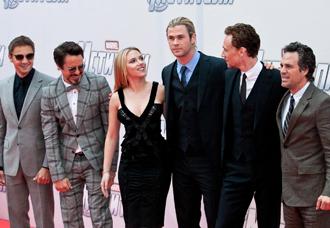 What happens when you cast the sultry Scarlett Johansson in a movie full of men in superhero outfits? Well, what do you think happens?
The actress, who received a star on the Hollywood Walk of Fame yesterday, stopped by The Tonight Show with Jay Leno to talk about her "hunky" and handsome co-stars in The Avengers — Chris Hemsworth, Robert Downey Jr., Tom Hiddleston, Chris Evans, Jeremy Renner and Mark Ruffalo — and what kind of trouble they got her into while on the film's promotional tour in Russia!
Article continues below advertisement
OK! GALLERY: SCARLETT JOHANSSON RECEIVES A STAR ON THE HOLLYWOOD WALK OF FAME
"I'm the only female Avenger and I thought it was fabulous! I have no complaints," Scarlett gushed to Jay Leno, revealing she loved being the center of male attention. "Black Widow is a an assassin and a warrior, and she really doesn't have time for love and all that fluffy stuff, and I like that aspect of her. I like playing with the boys that way. It's fun," Scarlett added before quickly backtracking: "Not like that! You know what I mean."
The kind of fun Scarlett is talking about was hanging with the guys on the road, something she describes as quite crazy.
"We were in Russia and the reception was unbelievable. So, of course, we went out and everybody was really into the Russian Standard vodka, which is apparently the thing... and I actually don't even remember the rest of the trip," Scarlett joked about partying with the hot actors.
Article continues below advertisement
"It gets a little sticky in there, but compared to what everyone else was in, it was like a walk in the park," Scarlett said of her character's costume. "It was pretty much like wearing sweaty pajamas!"