NEWS
Scarlett Johansson "Waits" for Album Release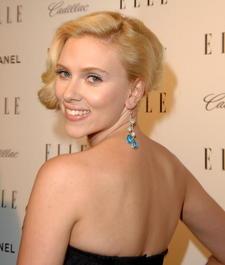 Hopefully nothing will get Lost in Translation!
Scarlett Johansson's debut album of Tom Waits covers is slated for a May 20 release, and the folksy rocker has already given ScarJo the seal of approval for the effort.
"I sent him some of the early, early recordings, and he said, 'Go ahead,"' she says. "I've heard he's very pleased."
Titled Anywhere I Lay My Head — one of Tom's tunes — the disc features 10 covers of Waits classics and one original song from the 23-year-old star, called "Song for Jo."
Article continues below advertisement
The blonde bombshell admitted she originally planned on recording an album of standards, but it soon transformed into a Waits homage.
"His melodies are so beautiful and his voice is so distinct," she revealed at a news conference Tuesday.
Guesting on the album are rock god David Bowie, Yeah Yeah Yeahs guitarist Nick Zinner and members of the band Celebration. The LP was produced by Dave Sitek of rock band TV On The Radio.
Don't expect ticket sales to go on any time soon to see Scarlett bust out a note. The actress, who can next be seen in The Other Boleyn Girl, says she has no plans to tour in support of the album. Though, she won't rule out a special festival performance with all of her collaborators.
"It would be a missed opportunity not to."