NEWS
Scarlett Johansson's Snotty Tissue Sells for $5,300!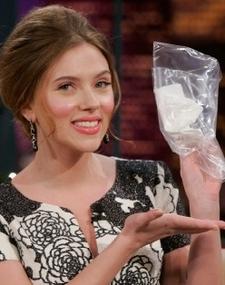 Times may be tough all over this holiday season, but that didn't stop an anonymous bidder from digging deep into their pockets to place the winning bid of $5,300 on Scarlett Johansson's used tissue!
Last week, a sniffly and sneezy ScarJo appeared on the Tonight Show with Jay Leno. The actress explained to Jay that she had likely caught the bad cold from her Spirit co-star Samuel L. Jackson. She told Leno that for this reason, her cold had some "value," and after the host offered her a tissue for a bit of nose-blowing, it was decided that the snotty bit of flimsy paper should be auctioned off on eBay, with all proceeds from the auction to benefit USA Harvest.
Article continues below advertisement