NEWS
Scary and Posh Spice: Friends Forever!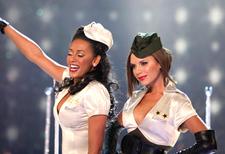 Take those rumors that Spice Girls Scary and Posh are not on speaking terms and slam them to the left – friendship is forever!
Reports in British newspapers that the two Spices don't speak are false, says
Melanie Brown. In fact, Mel B., 33, says that she and Victoria Beckham, 34, are so tight that their kids hang out.
"My daughter went to Romeo's birthday party last week. They all play together. It's really nice," Mel told OK! in the American Express Skybox at Mercedes-Benz Fashion Week.
Article continues below advertisement
"The party was lots of fun" she adds. "They saw a movie and then had dinner at Hard Rock Cafe. My daughter loved it."
Also getting rave reviews: Mrs. Beckham's new pixie cut.
"I think it's really nice," says Mel – but she's no wannabe. When asked if she would ever get the controversial cut, Eddie Murphy's ex told OK!, "Not right now."